Did you like the project?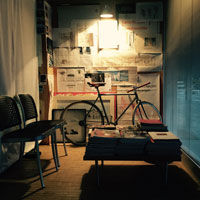 or
Find out more about RMAD - ROBERTO MARCONI ARCHIDESIGN
Project details

design Roberto Marconi
San Mauro Pascoli, Forlì-Cesena
2007
The property belongs to a three-level row building above ground situated in the historical center occupies the top two floors and is characterized by a double entrance, the main Via Pascoli and the secondary from the rear private relevance for the exclusive use . The particular shape of the plant, long and narrow, laid down the lines of the project that have favored open environments for maximum perception of space and natural light. To this end, the staircase leading to the sleeping area is designed to have less impact on individual steps cantilever coated maxi teak planks "Granparquet" (TAVAR), the same used for the other scale coating concrete that falls ground floor and the flooring throughout the house including the bathrooms. Thus, in the absence of dividers masonry interior design becomes the absolute protagonist with every corner and wall-drawn tailored to make the most of the space and streamline all the functions. The materials used are teak and glass mocha color for the kitchen, teak and glass lamp mirror to the wet bar, black glass for mobile input teak wardrobe and everything for that TV. Even the interior doors are all on design, teak those dressing room and bathroom on the first level and lacquered white on the attic floor. Upon completion, the standard furniture in the dining foresaw the table in lacquered aluminum and black glass Colors (MDFItalia) and seats HiPad natural leather (CAPS) while in the living room sofa Kennedee white leather (Poltrona Frau) and Sacco (ZANOTTA). In the bathrooms the washbasins are also made to a design, they are made of marble monoblock Royal beige (living area) and cement finished resin (sleeping quarters) while health are the links (Flaminia) and the taps is GESSI. The finishes of the walls are resin in the bathrooms, in marble-gray behind the couch and civil stained white plaster for the rest. For all the rooms the lighting is designed by mixing cold florescent light with halogen hot.
Other projects by RMAD - ROBERTO MARCONI ARCHIDESIGN
All projects