Did you like the project?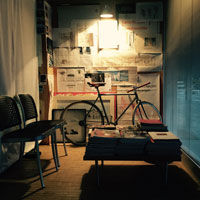 or
Find out more about RMAD - ROBERTO MARCONI ARCHIDESIGN
Project details

design Roberto Marconi
Bellaria Igea Marina, Rimini
2009
The unit located on the south side has access to a porch plane coplanar to the road. The dual input volume with mezzanine that overlooks the living is enhanced by the transparency of glass and parapets of the great glass chandelier. The environment is completely open with the kitchen made in view of design in teak placed on the back wall and separated from the living area with sliding smoked glass. In Black glass surface of the central fireplace located space sial on tv that the audio speaker home theater. The same black glass characterizes the bath of service that is located at this level. The sleeping area is accessed via the staircase that runs along the double-height wall whose coating texture in teak panels is underlined by a play of light with glass panes tinted backlit. The sleeping area consists of two bedrooms and two bathrooms. The master bedroom comes with both staff and marble-mosaic bathroom the closet whose outer wall covered in skin is illuminated with grazing by a linear system led rgb added to a mirrored ceiling. The mezzanine overlooking the living room below through tempered glass railings Full extra department. The curtains are made of silk and velvet for the stay for rooms. Finally, the interior lighting is Modular, Vistosi and Flos glassware. The furnishings are mostly custom while those of series are Minotti, Knoll and Poltrona Frau. This fitting Plasters, health are Flaminia. The interior floors are in teak planks for all departments.
Other projects by RMAD - ROBERTO MARCONI ARCHIDESIGN
All projects