Did you like the project?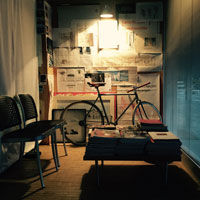 or
Find out more about RMAD - ROBERTO MARCONI ARCHIDESIGN
Project details

design Roberto Marconi
Bellaria Igea Marina, Rimini
2008
This is the first of two interventions realized on a duplex which was already existing. Structured on three levels, the project included the creation of all interior rooms made with the creation of partition masonry walls and furniture. The careful and rational use of the latter, built entirely on design, has created highly personalized spaces. This is the unit on the north side of the property, the first to be completed, has access by a double volume with a mezzanine that overlooks the living room and exalted by the large chandelier in glass suspended on the slanted ceiling. The environment is completely open with living room and kitchen separated only by a glass wall bronzed with open staircase, leading to the sleeping area, fully covered in teak and glass as well as, the wall-to-ceiling, on which rests and from which projects cantilevered mobile suspended intended to wardrobe. Full environment of the bathroom. The sleeping area consists of three bedrooms and two bathrooms with mezzanine, intended to study, which overlooks the living room below. The attention to detail has also led us to the choice of curtains, rugs and accessories. The floors are teak. The interior lighting is Modular, Vistosi and Flos. The furnishings are standard MDF, Minotti and Zanotta.
Other projects by RMAD - ROBERTO MARCONI ARCHIDESIGN
All projects